55 min
Indoor duo, all audiences
Inspired by the paintings of Edward Hopper and the landscapes of the Portuguese countryside in springtime, Abril, a creation by João Paulo Santos and Elsa Caillat, deals with the awakening of nature and encounters.
This sensitive, intimate and powerful creation combines the work of two acrobatic artists on the Chinese pole, the rope and the suspended baton.
Hopper is the painter of the everyday and of the "suspended moment", his creative constraints are singular because of the slowness of his creative process and the very long maturation of each of his works. The gesture of the craftsman, artist, painter or circus artist takes on its full dimension in the course of time. Through this new artistic composition, João and Elsa seek to impregnate the circus language with the immobile feeling of painting.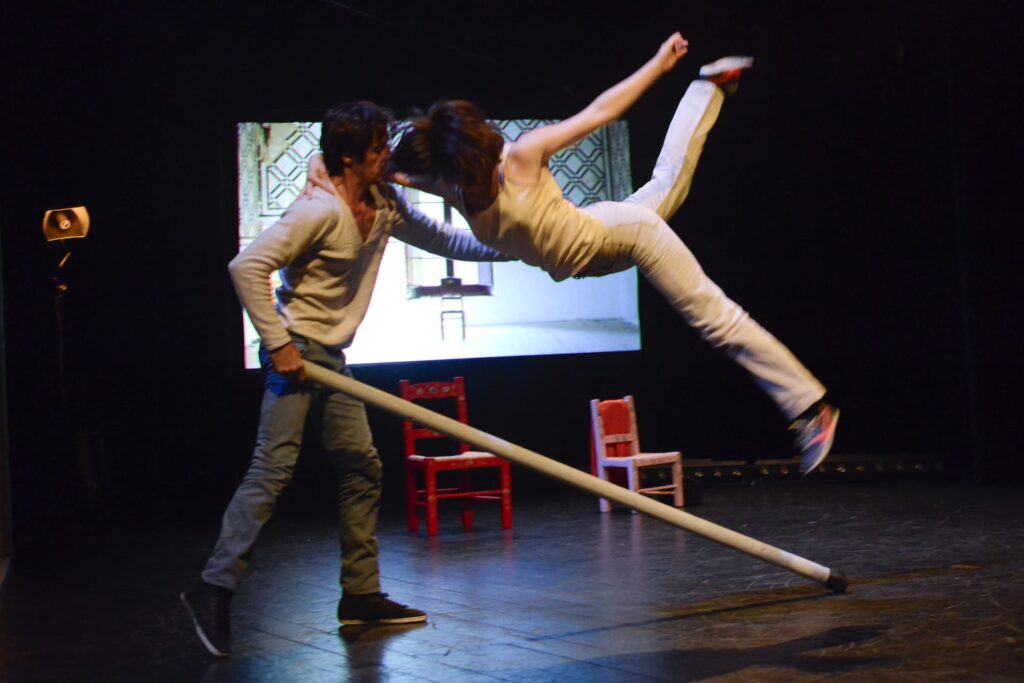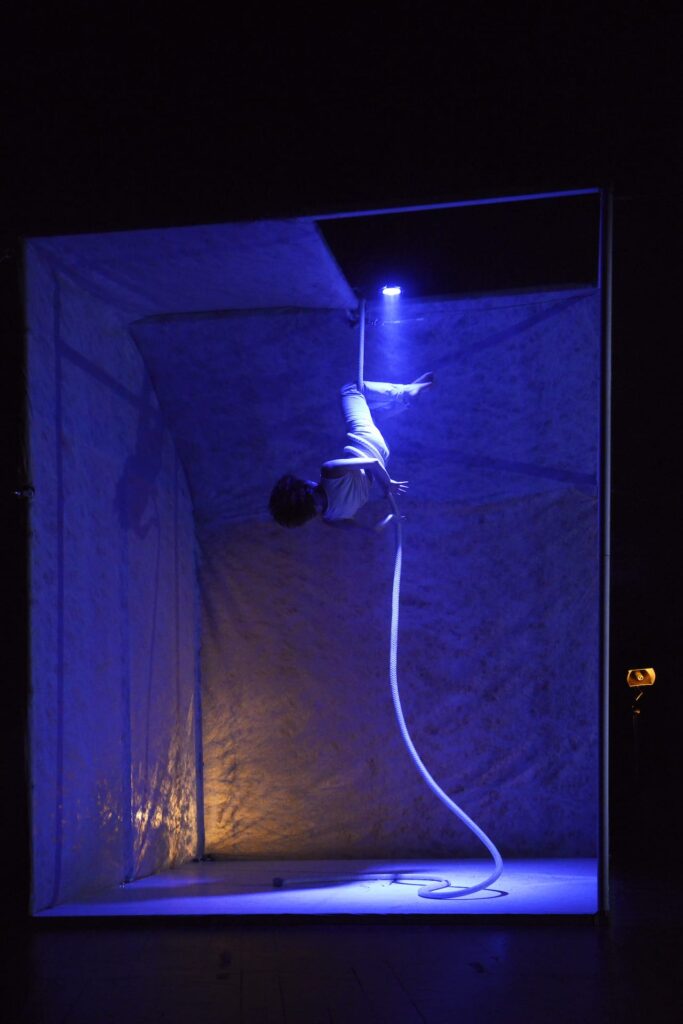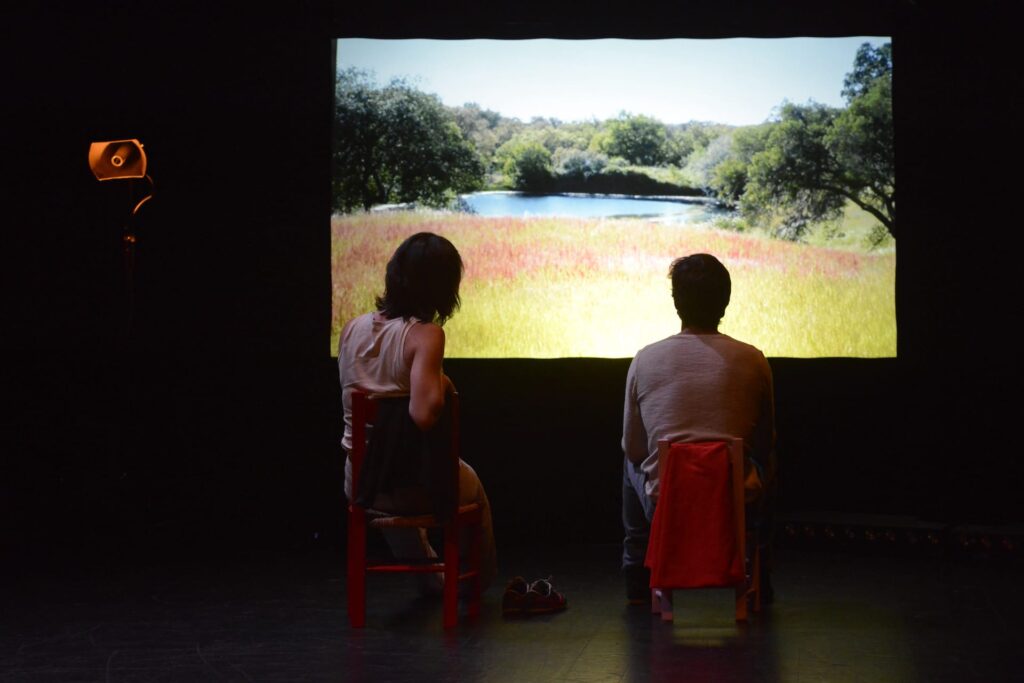 João Paulo Santos, who is a name in Chinese pole, and his partner, Elsa Caillat (Cie Toron Blues), transcribe their artistic and intimate encounter on the rope, on the pole and on the baton, with the desire to examine their aesthetics to the point of writing it down and then erasing it in order to start again, to build it up and then destroy it, in the light of a month of April (abril in Portuguese)… An achievement.
Abril is the possibility of opening up encounters and practices, such as the suspended baton, a shared apparatus halfway between the Chinese pole and the rope. At the same time light, mobile and suspended in a perpetual movement, the pole turns, marks its own tempo, imposes its rhythm. By entering its space, Joao and Elsa accept the constraints imposed by its movement. They join in the game, a bit like the turnstiles of childhood.
Video, a medium dear to Joao's heart, is used here with simplicity and finesse, opening up another space of time, a mise en abîme of the characters and their story to evoke the before and after of a suspended moment.
This creation is the first of the company inviting a female presence to the stage, this work around the human, love and artistic encounter takes the spectator on a gentle journey with a stretched rhythm and palpable evolutions accompanied by an original sound score composed by Tiago Cerqueira where the crystalline sounds of the wind in the wild grasses and the muffled roar of Nature in the springtime are mixed together.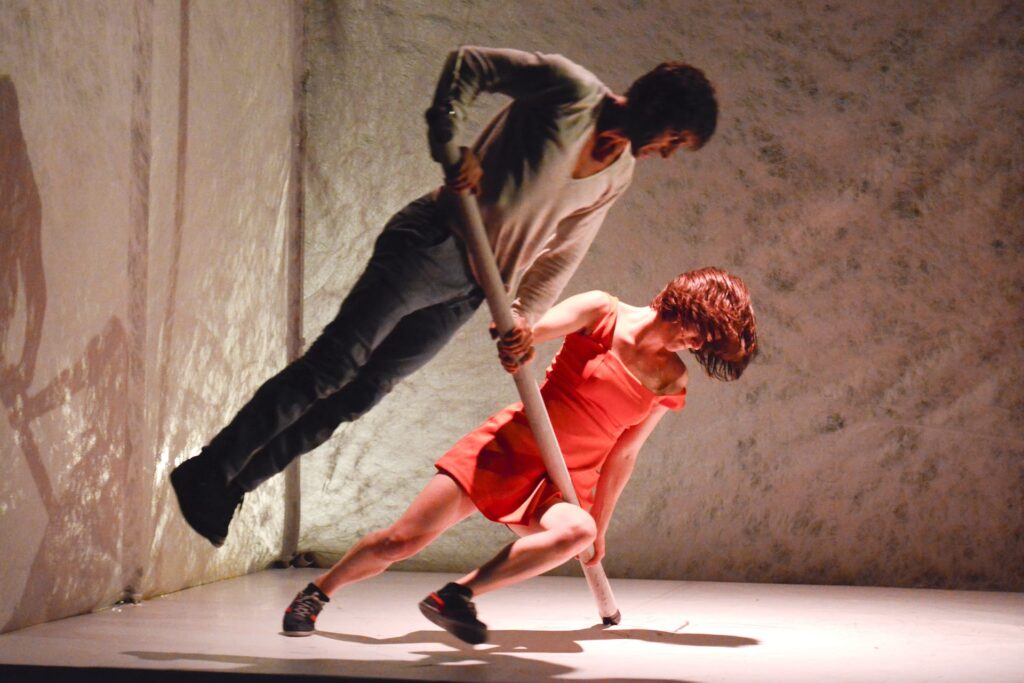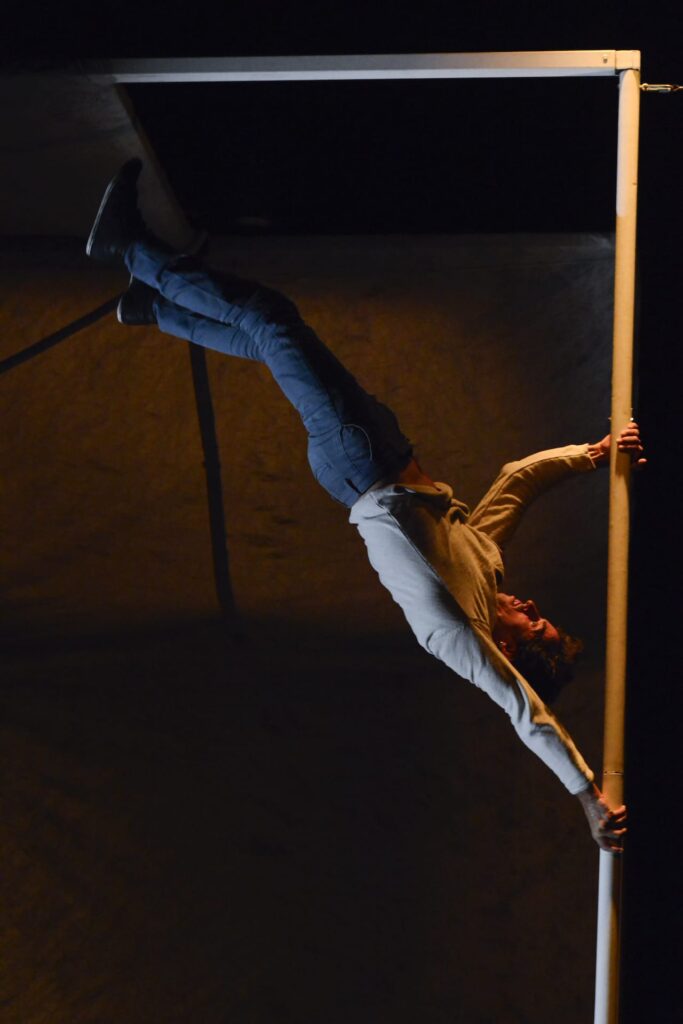 Cast
Writing and direction João Paulo Santos and Elsa Caillat
External viewpoint Clémentine Lamouret
Choreographic advisor Chloé Caillat
Creation by and with Elsa Caillat et João Paulo Santos
Music and sound design Tiago Cerqueira et Bruno de Avezedo
Lighting design Enzo Giordana
Production Claire Perret
Partners
Co-production Centro Cultural Vila Flor – Guimarães (PT), Le Théâtre, Scène Nationale de Mâcon With residency support from Les Transversales – Verdun, CIRCa, Pôle National des Arts du Cirque de Auch, Le Sirque, Pôle National des Arts du Cirque de Nexon, Dommelhof / Theater op de Markt – Neerpelt (BE), O Espaço do Tempo – Montemor-O-Novo (PT) Partners Ministère de la Culture et de la Communication avec l'aide à la création pour le cirque de la Direction Générale de la Création Artistique 2014, Direction Régionale des Affaires Culturelles – Ile de France avec l'aide à la production dramatique 2015
© photos O Último momento