45 min
Frontal or circular show, can be performed in halls, tents and outdoors at night
Ce qui reste was born of the encounter between two Chinese pole acrobats, João Paulo Santos and Guillaume Amaro, and also of the desire to confront points of view, to open up the possibilities with the fresh eyes of a director, Olivier Antoine.
Ce spectacle transcende les limites du mât chinois, discipline chère à João Paulo Santos. Ainsi, danse, acrobaties au sol, mât bâton, musique et vidéo se mélangent et se conjuguent.
À travers cette création, João Paulo Santos invente un autre rapport à sa pratique avec un instrument atypique : le mât bâton. Une nouvelle porte s'ouvre alors dans la recherche acrobatique autour du mât. Non plus fixe, le mât devient mobile, objet manipulé. Les acrobates entament désormais une danse avec la verticale sans qu'elle soit fixée en une ligne. La verticale gagne l'horizontale et c'est l'espace entier maintenant qui peut se verticaliser.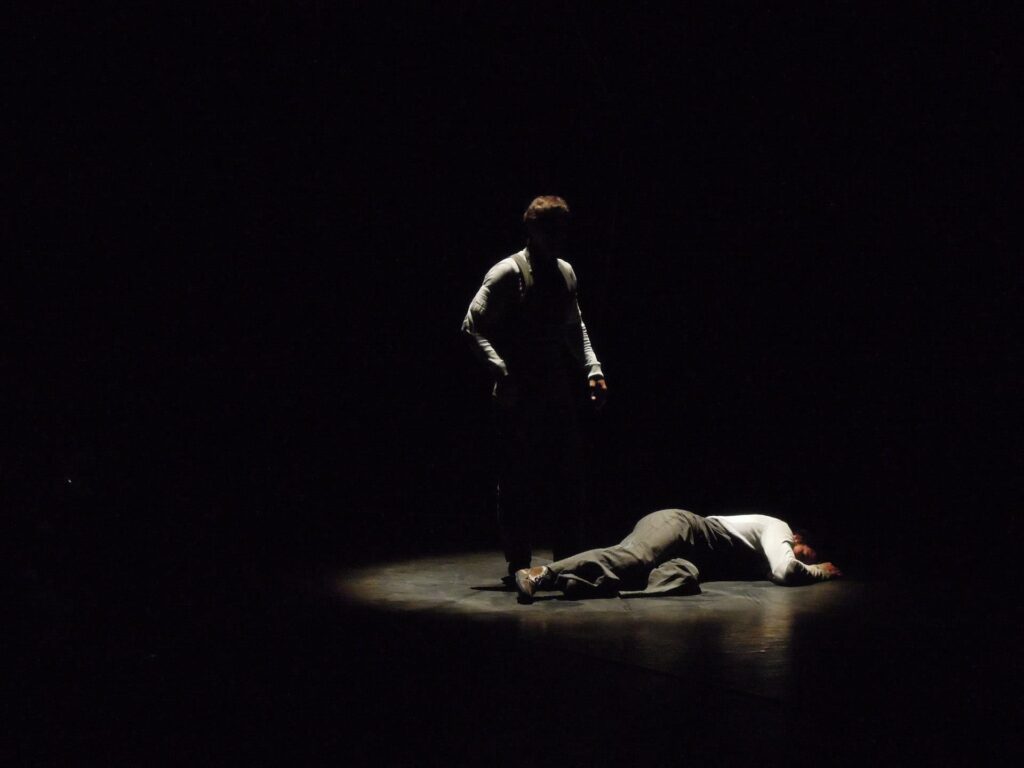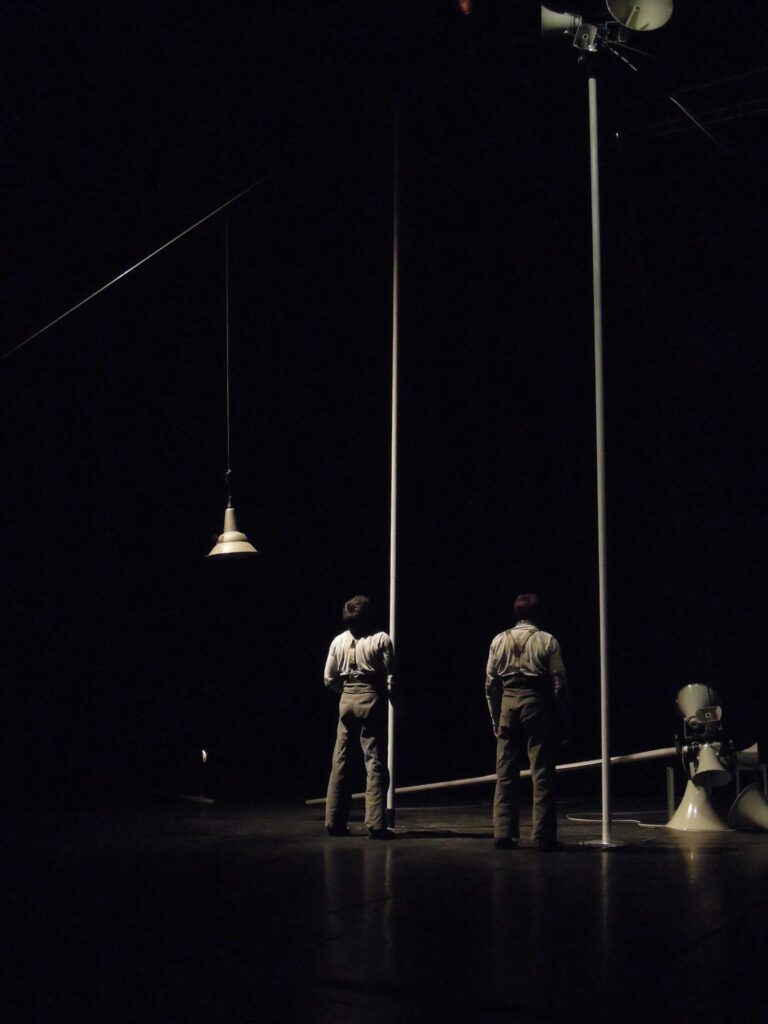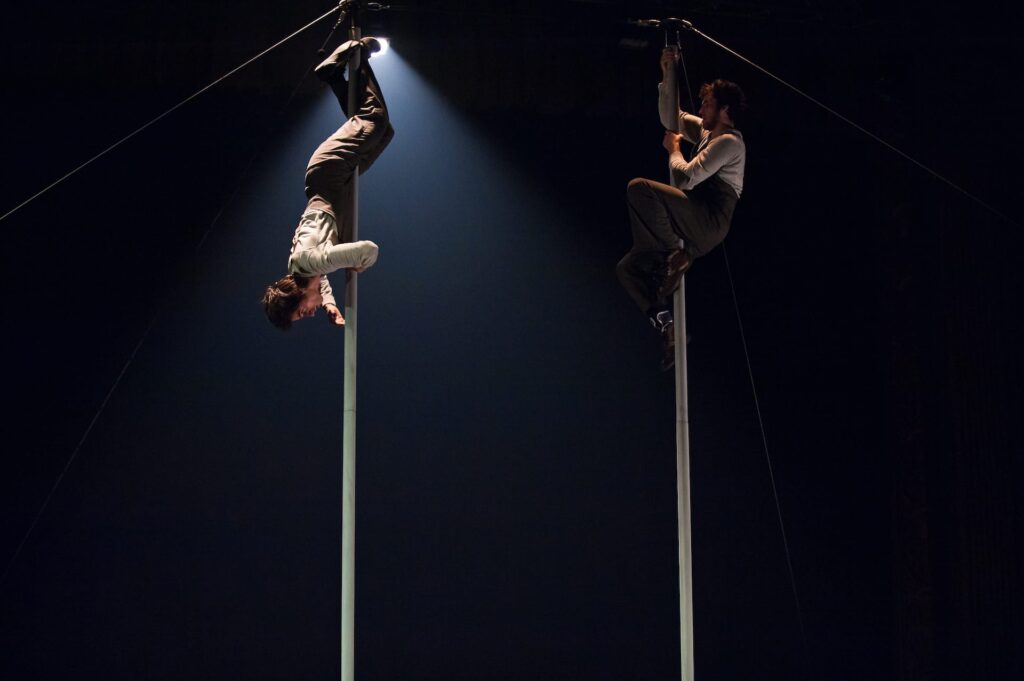 Ce qui reste takes its inspiration from a short story, The lost sailor, from the book by neurologist Oliver Sacks The man who mistook his wife for a hat.
A man who…
A man who glides over the absurdity of events
A man looking for the scent of a memory
A man who fears the sight of his shadow
A man searching for the meaning of his existence
The laughable hope of a disoriented man.
Is this man without memory, stuck in a constantly changing, meaningless moment, a real person or a product of our imagination, a reflection of ourselves?
Cast
Art Direction João Paulo Santos
Direction Olivier Antoine
Creation by and with Guillaume Amaro, João Paulo Santos
Music and sound Marek Hunhap
Lighting design Nicolas Le Clézio et Alrik Reynaud
Stage management Alrik Reynaud
Costumes Fanny Mandonnet
Production / Diffusion Flore Vitel
Partners
Coproductions Cirque Théâtre d'Elbeuf, Centre des Arts du cirque de Haute Normandie – L'Hippodrome – Scène Nationale de Douai – Culturgest – Lisbonne, Portugal – L'équinoxe, Scène Nationale de Châteauroux – La Verrerie – Pole National des Arts du Cirque en région Languedoc-Roussillon – Teatro Municipal do Guarda, Portugal – Fondazione TPE, Festival Teatro a Corte, Italie Partners Ministère de la Culture et de la Communication avec l'aide à la création pour le cirque de la Direction Générale de la Création Artistique, l'aide à la production dramatique de la Direction Régionale des Affaires Culturelles en Ile de France With residency support from O Espaço do Tempo – Montemor-O-Novo – L'Acert – Tondela – Le Réseau des Équipements Culturels (QREN) – Le Bateau feu, Scène Nationale de Dunkerque – La Cascade, Maison des arts du Cirque et du Clown, Bourg-Saint-Andéol – Scènes et Cinés ouest Provence – Théâtre de la Colonne, Miramas – Académie Fratellini, Saint-Denis – Circadour – Ju-Bellock
© photos Flore Vitel, Milan Szypura