1 h 10 min
Solo for the theatre, all audiences from 10 years old
Mundo Interior, solo de João Paulo Santos, est une pièce de théâtre-cirque performative qui met en fusion mots, mouvement et musique.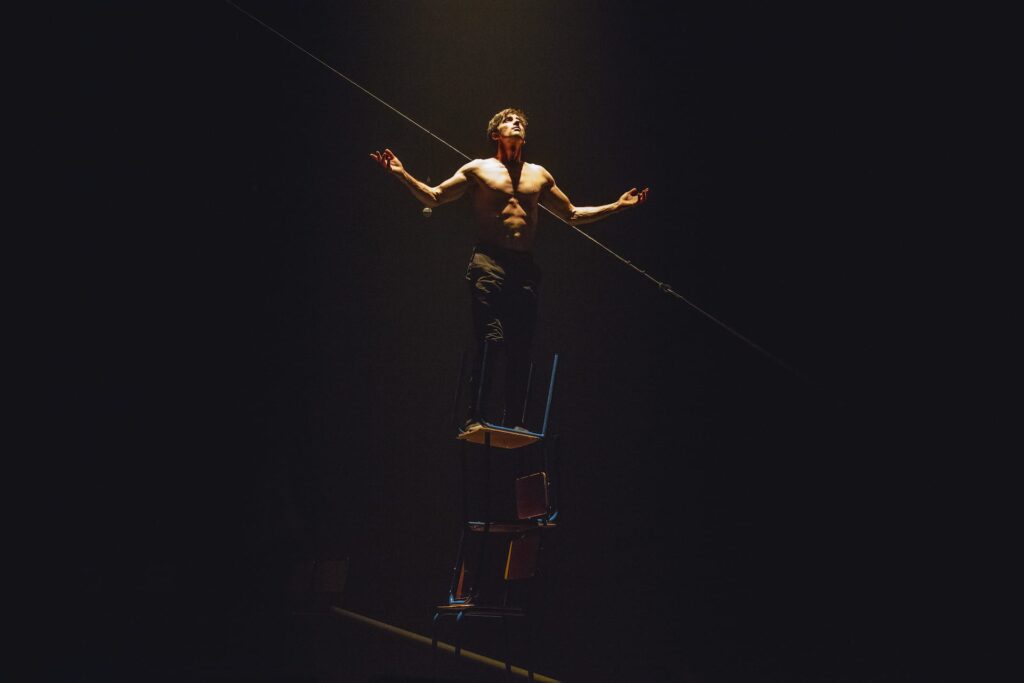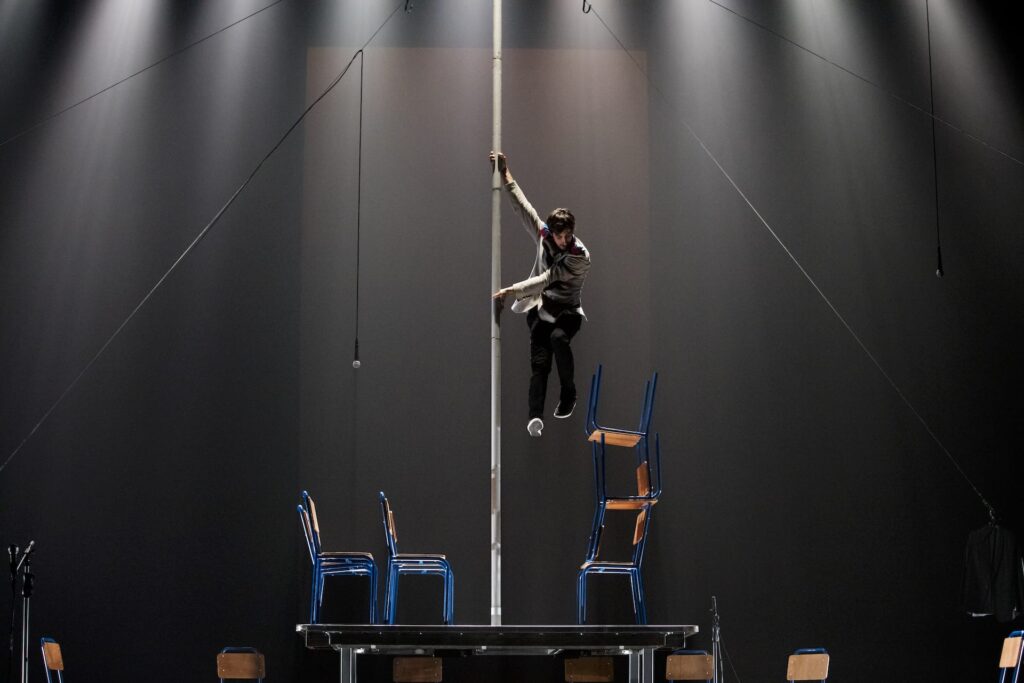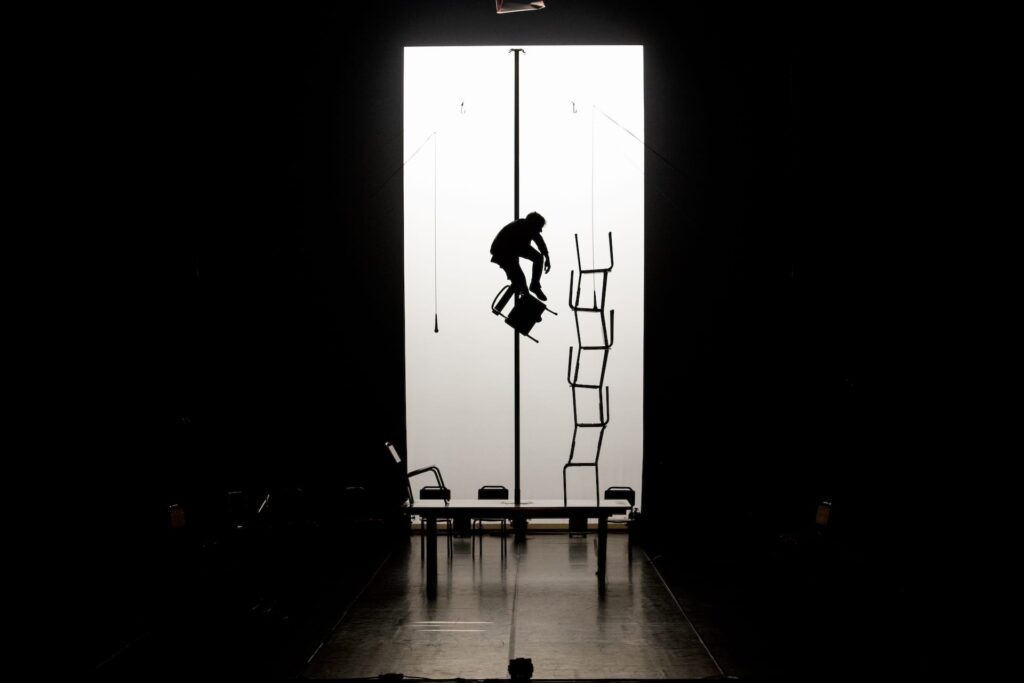 …A word stubbornly invites you to search for its meaning, what really caused it. But even as it seeks to reveal, the word hides its origins. The word is a coating that covers, as a means of concealing the force, the stimulus, the energy, the ideas, the heart. A word is a hiding place. Words convey an idea, but the inner world is much deeper. The word as the tip of an iceberg, whose submerged part represents what he really wants to say, think, feel or see. The word like a drop out of a funnel, like the rest of what is. The distillation of the thinking being. So we need to speak two languages, two words. A two-sided language. We must express ourselves through complementary languages, of which movement and word are the modalities of expression. Speaking movement, speaking poem. A feat with words, like dancing, like climbing a pole. The feat of the word. The feat of climbing the word pole.
Mundo Interiorproposes two parallel stories: a body and a voice attempt to translate the bitter search for meaning and light which is that of every individual who wants to understand the world.
The body is that of João Paulo Santos who dances the story of his journey from a child of Lisbon to a recognized artist who has written a page in the history of his art. He dances this road of effort, doubt, joy and fragility.
The voice is that of the poet who examines the human experience, its desires and ambitions, its quests and mistakes.
Seeing this one dancing, lifting and breaking, hearing this other one telling what it is to be a man, the spectator feels himself living.
Cast
Authors João Garcia Miguel et João Paulo Santos
Direction João Garcia Miguel
Performance João Paulo Santos
Voices Miguel Borges (Portuguese version) / French voice in progress
Music Tiago Cerqueira
Lighting Luis Bombico
Costumes Ana Luena
Stage construction HVCROM
Production Raquel Matos
Images João Catarino
Words Joseph Campbell (from Primitive Mythology), Dante (from Divine comédie)
Partners
Production Compahnia JMG et Compagnie O Último Momento Co-productions Teatro Oficina – Guimares (PT), Centro Cultural Vila Flor – Guimaraes (PT) Support O Espaço do Tempo – Montemor-O-Novo (PT), Teatro Cine – Torres Vedras (PT), Teatro Iberico – Lisbonne (PT), Teatro Eduardo Brazao (PT), Centro Cultural de Ilhavo (PT)
Acknowledgements Ana Calçada, Alexandre Mira, Ana Carina Paulino, António Cinzas, António Paupreto, António Santos, Cristina Manuel, FX RoadLight, Irmãos Henrique e Valter, Jackson Lima, João Costa Dias, Luísa & Pedro Matos, Mafalda Matos, Maria Antónia, Pia Kramer, Rita Costa, Rui Horta, Rute Alegria, São Francisco de Xabregas, Sara Ribeiro, Susana Picanço, Tiago Coelho, Tia Lena, Vasco Mosa, Verónica Metello.
© photos Susana Chico, João Catarino